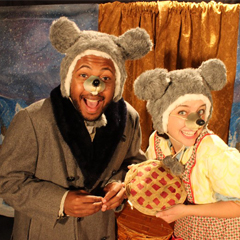 Bright Star Touring Theatre, a national professional touring theatre company based in Asheville, NC, is visiting the area with a public performance of their acclaimed show Winter Fables. Winter Fables is a cozy little show where Aesop's famous fables are brought to life with some amazing winter-inspired tales. Our spirited performers take your young audience on a hilarious and highly entertaining journey. They cover valuable lessons from The Ant and the Grasshopper to The Country Mouse and the City Mouse. You are guaranteed to walk away with strong character-education influence and a boat-load of uproarious laughter! You'll learn about responsibility, honesty and appreciating what they already have just in time to get into the spirit of the season. Thursday, November 17th at 7pm, Winter Fables. Click here to purchase tickets.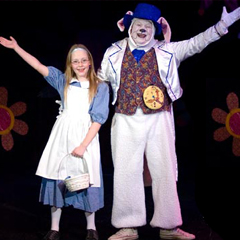 The Missoula Children's Theatre presents Alice in Wonderland, an original adaptation based on Lewis Carroll's Alice's Adventures in Wonderland and Through the Looking Glass. The story begins with Alice and her older sister Margaret reading together. Margaret becomes frustrated, as Alice is curious about absolutely everything. Suddenly, a White Rabbit appears from nowhere. After a quick and nonsensical conversation, Alice follows the rabbit to a strange and wonderful place. In the course of her adventures, Alice meets a band of Flowers, the King and Queen of Hearts, the Knave and the rest of the suit of Cards, a giant Caterpillar, a Fish, a Frog, the Duchess, the Cook, the Cheshire Cat, the Gryphon, the Mock Turtle, a group of singing Lobsters, Tweedle Dee and Tweedle Dum, the March Hare, the Mad Hatter, the Dormouse and Humpty Dumpty. Through it all, Alice grows "curiouser and curiouser" as to where she is and even who she is. In the end, the answers she seeks are unimportant. Wonderland is all nonsense, anyway. As the White Rabbit explains, "Nonsense is fun!" Saturday, February 11 at 3 pm and 7 pm, Missoula Theater's Alice in Wonderland (auditions on Monday February 6th & rehearsals nightly). Click here to purchase tickets.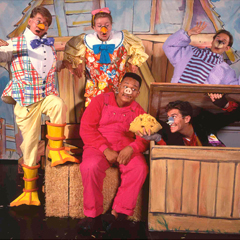 Theatreworks USA's production of Charlotte's Web is based on E.B. White's loving story of the friendship between a pig named Wilbur and a little gray spider named Charlotte. Wilbur has a problem: how to avoid winding up as pork chops! Charlotte, a fine writer and true friend, hits on a plan to fool Farmer Zuckerman — she will create a "miracle." Spinning the words "Some Pig" in her web, Charlotte weaves a solution which not only makes Wilbur a prize pig, but ensures his place on the farm forever. This treasured tale, featuring mad-cap and endearing farm animals, explores bravery, selfless love, and the true meaning of friendship. Saturday, March 4th at 7 pm, Charlotte's Web. Click here to purchase tickets.